After many months of searching, I finally snagged a good deal on a used Model D. Here in Montreal, a new unit presently sells for about $1250 CAD + tax ($1437). That's a pretty good chunk of change so I've been looking on the second hand sites since last summer for a deal on a used one. They don't pop up too often.
Model C's go for about $800 and Model D's usually sell for about $1050 and occasionally dip down to under $900. However, when Model D's are priced under $900 they will typically sell in about 15 to 30 mins so you have to be fast. Well, my luck changed last week. I searched outside my local area to see if they were any listings and I caught a fresh ad for lightly used Model D priced at $650 !!! They only catch was that I had to drive about 430 km / 267 miles round trip to get it. I was the first to respond to the ad and got the call back.
The unit is in
showroom condition
with only about 60,000m on it... really clean and smooth.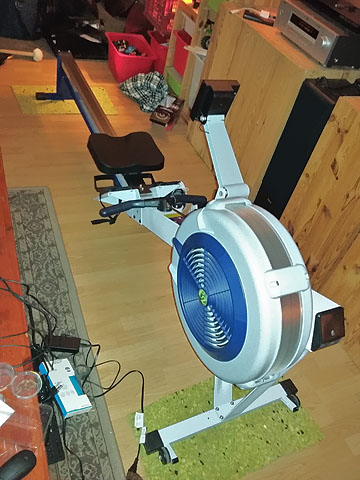 Its got the PM3 which is fine for now... but with the money I saved, It will be getting a FULL splurge upgrade soon (PM5, gel seat, rubber under-matt, wireless HR monitor, chain lube). I'm super excited to be able to row closer to home. Its summer and traveling back and forth to the gym eats up a lot of time. Now I have no more excuses for skipping those morning meters...