Something different:
A long time project here has been the disposition of a 1950 Plymouth convertible that my father-in-law thought was a good thing to keep. A retired mechanic, he left it on the property when we bought it so he could move to a lower elevation (and keep it in the family). Despite putting new tarps on to cover it each winter, these things didn't really hold up. This Spring's discovery of a decomposing fox inside the vehicle was impetus to get the thing out of here. Car restoration is not an inexpensive hobby, and none of the extended family wanted to tackle the project. Even moving the vehicle was going to be a project! One of the good outcomes of family reunions and memorial services is that you get to connect up with family members you don't see as often, and can find that they not only have the kind of truck you're going to need for a project, they actually think this might be a fun gig. And so it was that while fighter jets flew in formation over the mountain lake in commemoration of 9/11 (impressive!), we were making progress. One of the cousins brought his big truck with front and back winches, a trailer, AND inflated tires to put on for the trip. It took about an hour to load the car onto the flatbed, and then he drove it down the Pass without incident.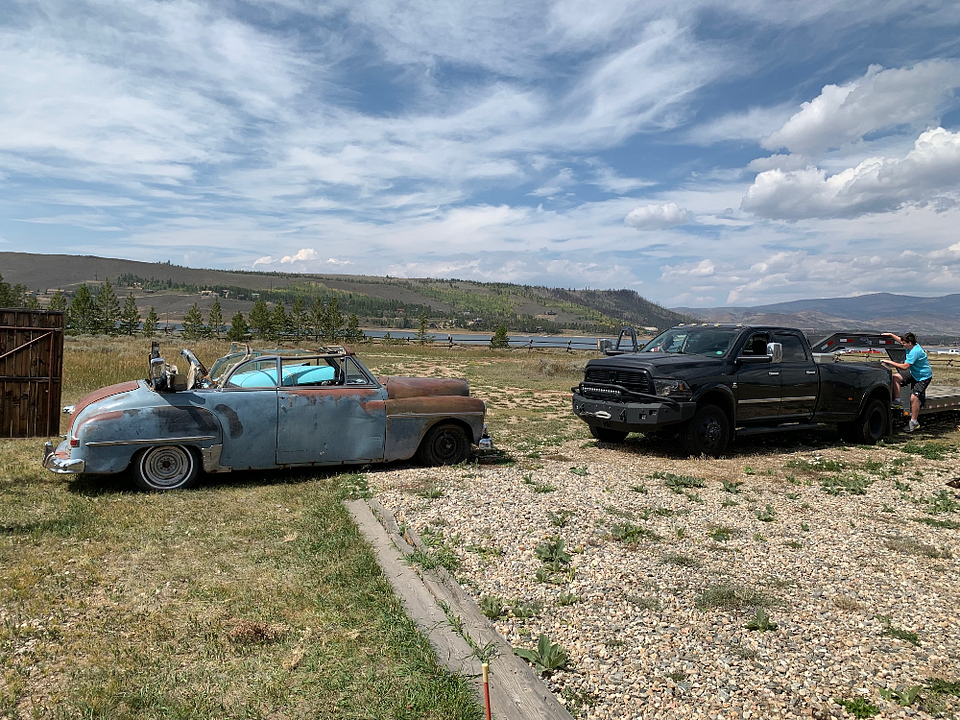 MILESTONES...Bragging Rights...Celebrations:
2.85 MM Ron
2.2 MM Ed
1.45 MM Norma
850 K Eric
700 K Robin
650 K Brent
350 K Virginia
150 K Baz
Thanks, everyone, for erging with us!
Brent 1,020 m
Tony 1,111 m...a palindrome!
JD 2,061 m
Patrick Hmr 4,010 m
Sergio 4,980 m
Jeff F 5,555 m ....a high five palindrome!
Angelo 6,570 m
William H 7,100 m
Wim 7,588 m
Tombeur 7,651 m
Wild Bill 8,008 m...a palindrome!
Patrick Hsr 10,000 m
Virginia 10,000 m
Norma 10,101 m...a one aught one palindrome!
Minnie 10,777 m
Robin 11,111 m...a palindrome! Onesies!

Ron 22,911...a commemorative moon!

Eric 24,279 m... mooner!

Baz 30,000 m...mooner!

Ed 33,333 m...a palindrome and a mooner!