21st overall...AND...

15th

among virtual teams ...
There's a small regional airport about a mile from here. While it is expanding runways, etc., so far really big planes can't fly in/out of there. With the Air Academy and a couple of air bases close by, we often see F15s streaking through the sky (or the Thunderbird formation) or doing some touch and go's. I think those flyboys and flygals get a kick out of rocking the neighborhood - and truth be told, it is fun to see. The thrum of twin Black Hawks seems a bit different though, and that's what we had hovering over us as Marine 1 landed. I wondered how many Marine 1's there were to get that special transport from place to place - but now realize that Marine 1 and the presidential limo are flown in tandem with Air Force 1 in a cargo plane. The logistics are kind of mind boggling.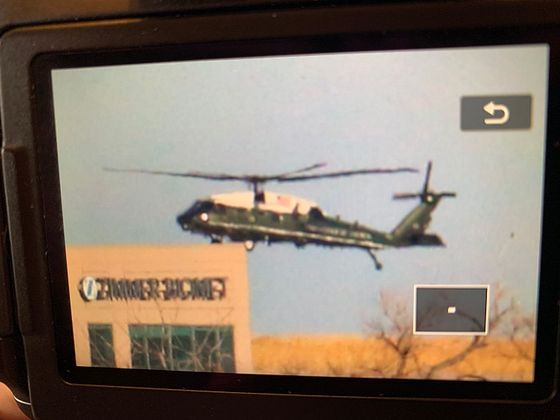 Marine 1 - wasn't sure what I had captured on camera, but am sure it's Marine 1 with the flag etc. Telephoto worked pretty well!
MILESTONES...Bragging Rights...Celebrations:

5.5 MM Ron
5.05 MM Chip
4.6 MM Ed
3.25 MM David A
2.35 MM Minnie
1.9 MM Ken
1.15 MM Rich
850 K K2
500 K JD...a cool half million!
400 K Dennis
250 K Andrea
100 K Rick
50 K Patrick Hys
Thanks, everyone, for erging with us!
Heather 515 m
GMan 520 m
Tony 1,111 m...a palindrome!
Patrick Hys 2,038 m
Dan O' 2,116 m
Nancy 3,008 m
Randy 3,015 m
Shawn 3,285 m
Sorin 3,502 m
Jason 3,561 m
Larry 4,000 m
NW1 5,222 m
Kerry 5,755 m
Rick 5,808 m
JD 6,025 m
Gines 6,554 m
Louie 6,666 m...a bedeviled palindrome!
Danny 7,099 m
Adam 7,500 m
Paul 7,500 m
Tombeur 8,063 m
Maria 8,527 m
Andrea 8,888 m...a palindrome!
Jeff D 9,086 m
K2 10,000 m
Ed 10,001 m...a one aught palindrome!
Carol W 10,025 m
Colin 10,385 m
Robin 10,451 m
Ron W 10,635 m
Rich 11,020 m
Patrick Hmr 12,097 m
Victor 12,250 m
Anya 12,391 m
Anrew C 13,001 m
Howar 13,272 m
Dennis 13,431 m...a palindrome!
Minnie 14,536 m
David A 15,757 m
Jeff F 16,105 m
Maria 17,000 m
danwho 17,171 m...a palindrome!
Ken 20,000 m


21,097 or more = mooners!

Norma 21,212 m...a palindrome and a mooner!
Stuart 21,251 m...mooner!
Wild Bill 22,822 m...a palindrome and a mooner!
Ron 24,642 m...a palindrome and a mooner!
Thor 28,082 m...a palindrome and a mooner!
Chip 93,458 m...emptied the meter piggy bank!