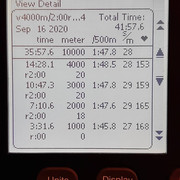 I went into this knowing it was a gamble, and despite it not being what I know I'm capable of I'm happy with the result. I could have easily HDed during the 3k, but I assessed and adjusted to make it just about bearable.
I even tried to do the last 1k at r24. I gave up on that idea after about 300m and then tried again with 400m to go and soon gave up again. Last 200m was fuelled by pride to get it done.
I'm having a lot of false dawns in my recent training, but I just need to keep my head down and chip away. Humidity was high again, so I'm looking forward to autumn and winter temperatures.