mdpfirrman

wrote:

↑

August 16th, 2018, 2:05 pm

@ Roel - your strength/power per stroke looks to be pretty consistent (don't ask me how I figured that out but I think I took the Watts calculator and divided total Watts based on pace divided by SR and then multiplied on your faster row and it was consistent, so that's good). I'd just be cautious. This theme could start an entirely new thread/debate. Low rate work (low SR work) has it's place but you just don't want to get in bad habits. If your hands are always moving and you feel OK, feel free to do whatever you like. In at least the full PP, Marston suggests 22 to 24 SR for SS work. I went a while two years ago working a great deal with a higher DF and lower SR (18/19). Come race season, I had a very hard time rating up (higher SR). I found that I had developed habits of pausing at the top and bottom of the rower. Exaggerated lean back, too far forward with knees over the ankles, lowering the chain on the way back, sloppy posture (you should sit upright on the rower with good posture), etc.

Some tell tale signs if you're doing things wrong: Can you row unstrapped without falling off the back? If not, you're spending too much time leaning back and wasting momentum. Do the fronts of your shins ache? Might be a sign you're leaning too far forward and overreaching with your knees past vertical to your feet (over 90 degrees). Are you spending any time up on your balls of your feet, too much time up on the balls of your feet? You shouldn't spend hardly any time up on the balls of your feet. That's the "sign" to start the next stroke immediately once you reach the balls of your feet. Are your straps coming loose? If so, you're likely leaning too far back and pulling them loose with your feet. They shouldn't come loose while you do SS work (or sprints for that matter). Is your rear chaffed? Same thing, too much leaning back and sloppy posture.

Sorry to ramble on, but if none of those are issues, then it's what's comfortable for you. You must have the patience of a saint! I couldn't do rows at that rate. Nice on the 750s, that was solid!!
Thanks Mike! I analyzed your feedback and most of it I think I do right. So no aching shins, no knees over the ankles and no time spend on the balls of my feet. Before I started the BPP though, I spend a few weeks focusing on technique and started rowing unstrapped which went quite ok. After your comments, I tried again rowing unstrapped and literally fell of the rower straight away

So that clearly indicates too much lean back. I tried to correct and increased the SR a good bit which felt actually quite a lot better than the lower SR.
By increasing the SR to 21/22, I automatically increased my pace without feeling as it would require more effort. It was a lot easier to maintain the pace and went a bit faster without the extra effort. Below the results:
BPP 2.3 - 5500m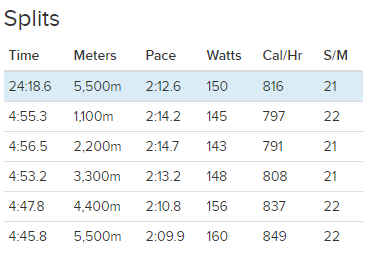 BPP 3.1 - 6000m